Open and Common Heritage | Cultural places as spaces of Innovation for sustainable and inclusive urban development – Rugantino library, Rome. The national workshop focused on the potential of the urban commons to produce new values around tangible and intangible heritage.
The workshop explored three main topics:
How to Promote Sustainable Urban Innovation through Culture (a roundtable discussion featuring dialogue between different policy makers and stakeholders to understand how public policies can promote culture from a sustainable development perspective). Reference has been made to policies being implemented in the city of Rome made operational through investments for example related to the PNRR;
Culture as a tool for sustainable and inclusive development;
Public and Private Finance for Sustainable Urban and Cultural Innovation (how investors, both public and private, are contributing, and can contribute, to support sustainable urban and cultural innovation projects)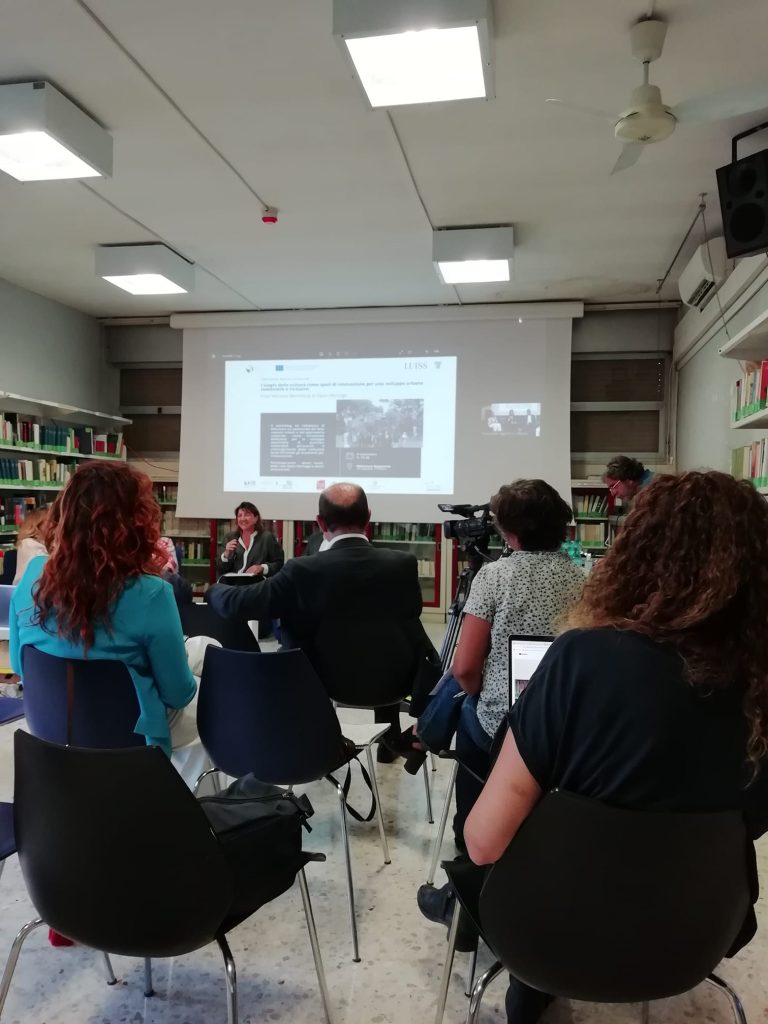 It particularly emphasized cultural heritage, as an enabling tool for the sustainable development of territories, not only through the involvement of local communities but also by offering spaces, skills, tools, and ideas to promote innovation aimed at sustainable development and improving the social and economic conditions of inhabitants and users in vulnerable neighborhoods. A crucial challenge for cultural heritage studies concerns the investigation of how to direct institutions to widely experiment with different approaches in managing urban commons (Elinor Ostrom – Nobel Prize in Economics in 1990; Co-Cities, Foster & Iaione 2022, MIT Press) in synergy with local actors (the so-called quintuple helix consisting of public, private, cognitive, social, civic actors) to increase their sustainability over time. New strategies such as adaptive reuse projects and innovative legal-organizational tools such as public-private-community partnerships (PPCPs) stimulate public authorities to make their application more widespread and help enable an entrepreneurial spirit already inherent in many local communities. In this framework, the Luiss LabGov research group's contribution to the European Horizon 2020 project "Open Heritage" is the result of a field experiment that began in 2014 and merged in 2018 through participation in the project itself into a wider European network with the aim of investigating the conditions for activating commons institutions and heritage communities (heritage communities) as a driver for inclusive economic development at the neighborhood/district level, while regenerating tangible and intangible cultural heritage.
Please, find here the video recording about the event here:
https://www.youtube.com/watch?v=0kbuTW12uoc