The workshop's objective was to define the content and design of the final artwork of the Living Memory Exhibition. The activity was hosted by the Istituto Comprensivo Montinaro in Torre Spaccata and involved its young students. The pivotal points guiding the initiative were based on Elinor Ostrom's approach on the governance of the commons, the principle of solidarity and civic collaboration referred to in the Italian Constitution in Article 2, the Agenda 2030 goal on sustainable cities and communities (SDG11), and the recognition of heritage communities operated by the Council of Europe's Faro Convention, the future generations (Art. 9 of the Italian Constitution). However, all these were simplified to fit the needs of the workshop's participants.
The outcome was a calligram depicting the above principles and inspired by the students. The birds depicted are of different species, all, however, are linked by a common thread to the same destiny as the institutional, civic, social, cognitive, and economic actors who must contribute to the sustainable development of the city: flying together to progress toward a future still harbinger of prosperity for humanity and the planet. This was an important lesson for the children and young people who attend the school and thus are today's and tomorrow's inhabitants of the neighborhood.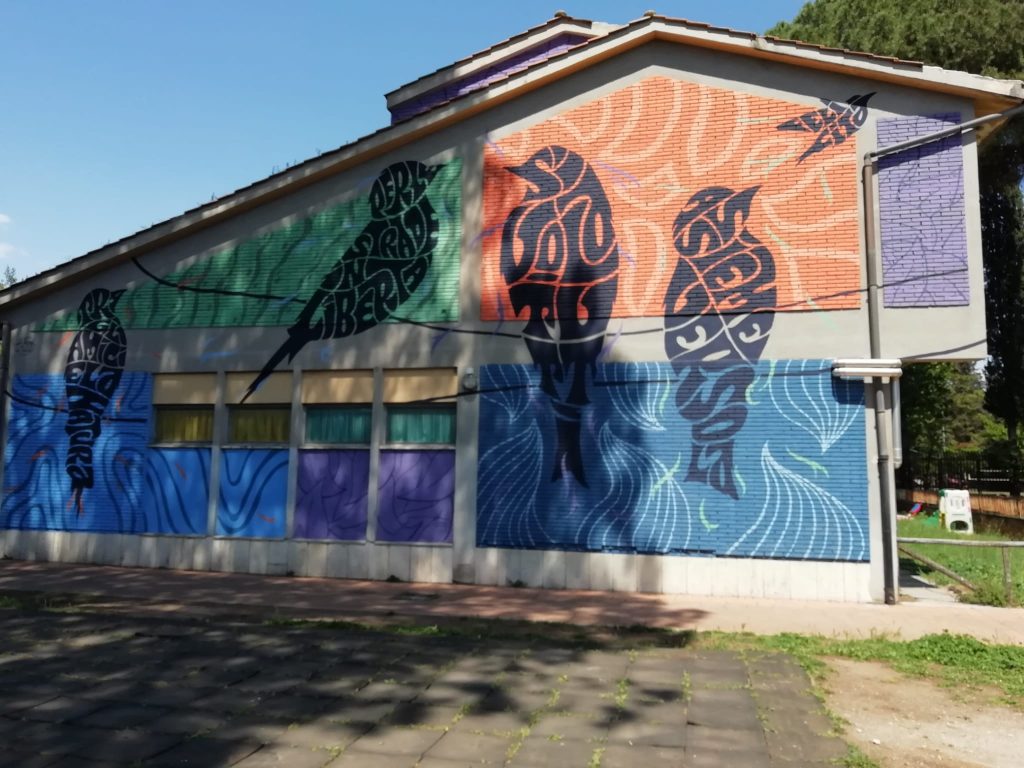 The birds are constructed through the words of a poem by "Er Pinto," a street poet whose art has become a recognizable mark of contemporary Rome.
 "Tra gli amici e la natura,
per le strade in libertà,
si vola tutti assieme 
verso la felicità" (Er Pinto)